English
絆のケーキ〜写真に写らないもの〜

朝日新聞記者 三浦 英之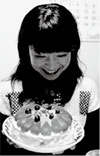 そこには「家族」が待っている。頑固者の「父」がおり、優しい「母」がおり、可愛い「弟」や「妹」たちがいる。

2011年3月11日、私は勤務先の東京にいて、翌日、真っ先に宮城県南三陸へと向かった。過去に何度も壊滅的な被害を受けた「津波の町」。町はがれきで埋め尽くされ、無数の遺体が散らばっていた。

その日から約1年間、私は臨時駐在記者として南三陸町で人々と共に暮らした。生き抜いた、と言った方が正しいかもしれない。復旧や復興は遅々として進まず、体育館や避難所で生活した。満足な食事は取れず、断水は夏まで続いた。「頑張ろうね」「復興しようね」。そう励まし合いながら、私たちは「家族」になった。

2014年3月11日、私は再び南三陸町を訪れた。多くの笑顔に囲まれる中、大人になった「妹」がサプライズで手作りのケーキを焼いてくれた。「絆」という字のデコレーション。思わず目の前が曇った。おいおい、「兄貴」をそんなに困らせるなよ……。

苦しくて、切なくて、温かい。南三陸はそんな町です。
Japanese
"KIZUNA Cake –Never Be Photographed"

A reporter, Asahi Shimbun Hideyuki Miura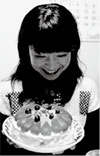 My "family" awaits there. A hardheaded "father," a caring "mother," and my dear "little brothers" and "little sisters" are all there.

On March 11, 2011, I was in Tokyo, where I was working then. First thing I did on the very next day was to head to Minamisanriku in Miyagi Prefecture, a place known as the "Town of Tsunami" for having been devastated by tsunamis multiple times in the past. The town was buried in rubble, and an endless number of bodies were scattered all over.
From that day for about one year, I lived with the local people of Minamisanriku as a temporary resident newspaper reporter. It may be more accurate to say that I had survived there. Reconstruction and recovery efforts were made at a snail's pace, and we lived in a gymnasium and evacuation center. We were not able to get enough food, and the water shortage lasted till the subsequent summer. "Hang in there," "We will recover together." Those were the words we exchanged to encourage each other, and thus we became a "family."

On March 11, 2014, I visited the town of Minamisanriku again. As I became surrounded by many people with smiles on their faces, my "little sister," who has all grown up, gave me a surprise handmade cake which she had baked. It was decorated with a letter, "KIZUNA," – a kanji character that represents a bond. Unbeknownst to me, my vision became blurry. Hey, don't you give your "big brother" a hard time…

Hard and difficult, painfully sad, yet warm and cozy…that's the kind of town Minamisanriku is.