English
日本の皆様へ

ユッカ・シウコサーリ 
駐日フィンランド大使
育児パッケージはフィンランドの誇るソーシャルイノベーションの一つです。政府から新生児の親への実用的な贈り物であり、わが国全ての子どもたちが、平等な人生のスタートがきれることを目的としています。
フィンランドでは赤ちゃん誕生に際し、全ての母親に手当てが支給されます。現金、もしくはデザインに優れ高品質なベビー服やケア製品の入った育児パッケージのどちらかを選ぶことができます。パッケージの箱自体は赤ちゃんの安全なベッドとしても使用可能です。毎年、手当てを受給する6万世帯のうち3分の2が、第一子の場合は95%が育児パッケージを選んでいます。
今年は育児パッケージが1938年に誕生してから80周年。記念すべき年を迎えています。育児パッケージは健診を受けなければもらえないため、ネウボラシステムとともに、乳幼児の死亡率が世界でも最も低いレベルを維持する理由の一つとなっています。
保健面以外でも、育児パッケージは新生児と家族を社会がいかに大切に支えているかを表しています。また、これを受け取ることは、生まれてくる子どもの親が、親になることを初めて実感する場面でもあります。箱をあけて親として、新しい家族としての新たな人生が始まる。育児パッケージは愛と思いやりの象徴です。
また、フィンランドの育児パッケージは世界的にも注目されています。タンペレ大学が現在おこなっている調査によると、日本を含む60カ国で90を超える地域オリジナルのパッケージが生まれています。
ご来場の皆様が、この展覧会を通じてフィンランドの育児パッケージの変遷を知り、新米の親たちや子育てを応援する社会への理解が深まることを願っています。
Japanese
Dear Japanese friends,

Jukka SIUKOSAARI
Ambassador of Finland
The maternity package is one of the greatest social innovations from Finland. It is a practical gift from the Finnish state to parents of newborns. The core idea of the package is to give all children in our country a more equal start to life.
Every Finnish mother receives a maternity grant when she delivers a baby. Mothers can choose between a cash grant or the physical maternity package, which contains well designed good quality clothing and various baby-care products.
The cardboard box itself can be used as a safe bed for baby. Of the 60,000 maternity grants distributed annually in Finland, two-thirds are taken as maternity packages. Of those becoming mother for the first time, 95 % opt for the package instead of the cash grant.
This year is especially significant historically, as the maternity package now turns 80 years ‒ the first packages were distributed to Finnish mothers already in 1938. Maternity package has also been a way to get almost all new mothers to sign up for health care check-ups ever since. Finland' s child mortality rate is among the lowest in the world, partly thanks to the maternity grant and associated health services in the "neuvola" system.
In addition to the wellbeing benefits, maternity package has a very significant symbolic value: it shows how the society appreciates and supports the newborn child and his/her family. It is also the first concrete sign for the parents of their awaited baby to be born. Opening the box opens up a whole new life: as a parent and as a new family. The maternity package symbolizes love and care.
Finnish maternity package has also been a global success story. As a result of an ongoing research project carried out at the University of Tampere, the researchers have identified more than 90 local versions of the maternity package in over 60 countries, including Japan.
I hope that this exhibition offers the visitors the opportunity to explore the origins and development of the Finnish maternity package and also encourages them to appreciate a society that supports young parents and loving child care.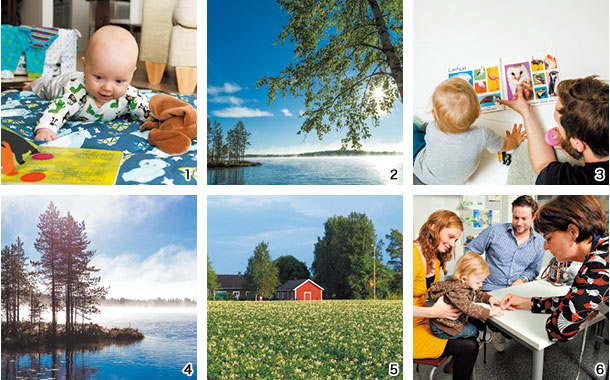 1 Photo: Annika Söderblom
2 Photo: Hanna Söderström / Source: Sauna from Finland
3 Photo: Sakari Piippo
4 Photo: Hanna Söderström / Source: Sauna from Finland
5 Photo: MMM arkisto
6 Photo: Kimmo Brandt